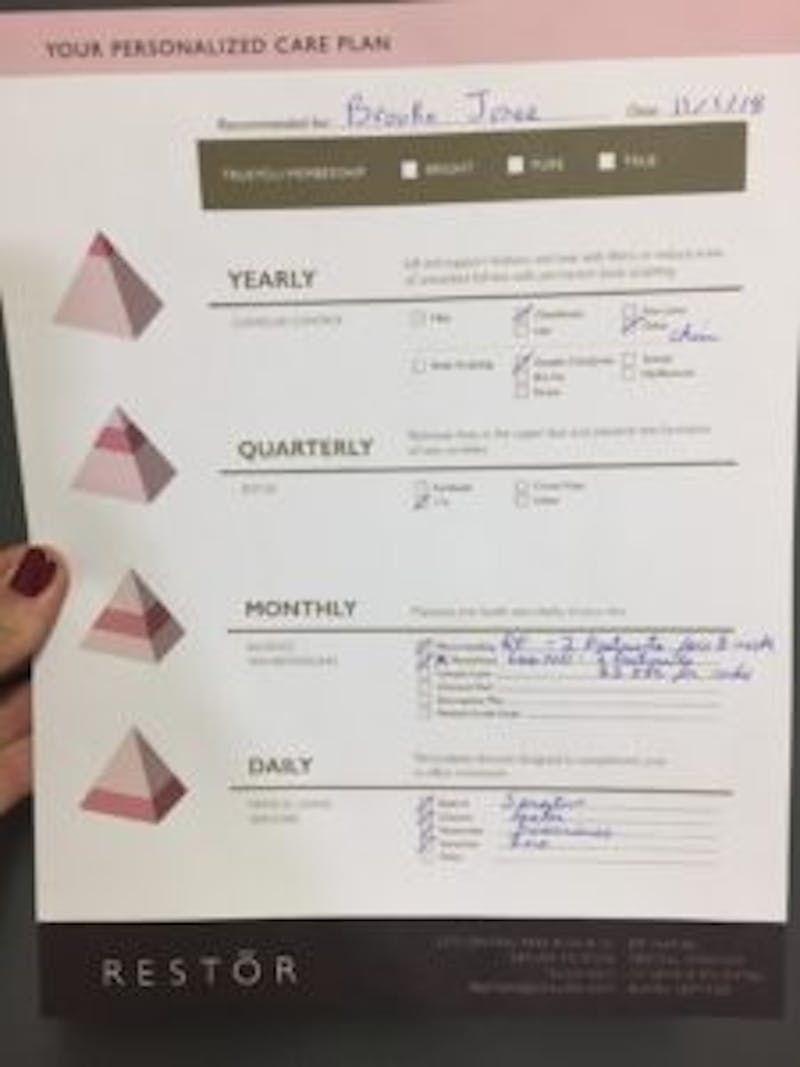 Better With Age: Brooke's First Treatments (LaseMD + Microneedle RF)
Today I started the first treatment on my careplan from RESTOR! I went in for my first Microneedling RF and LaseMD treatments. I was feeling nervous about it. I wasn't sure if I'd made the right choice to layer two procedures together in one day, but I was looking forward to it knowing I was in good hands. Dr. Waples had explained the procedures during my initial consult and again this morning when I arrived.
I met my aesthetician, Calah, who made me feel very comfortable. She showed me the various equipment she'd be using and told me how long each procedure would take. She was also honest about what to expect during the procedures in terms of pain and discomfort.
The doctor covered my face and neck in numbing cream and I waited about 20 minutes before beginning the Microneedling RF treatment. I was surprised how numb my skin felt after only a few minutes! By the time I began breathing the Pro-Nox (nitrous oxide), I was feeling very numb. I was curious about how the Pro-Nox would feel and whether it would actually make the procedures easier and less uncomfortable. I must say… the Pro-Nox was so nice to have during a few painful moments!
Microneedling RF was the procedure I was most concerned about. When I looked at this postage stamp sized tool with 64 (yes 64!) tiny needles that were going to be stabbing my face over and over again, I was worried. Calah described the noise the tool makes as "like a staple gun" which didn't calm my nerves. However, once Calah started on my forehead (the most sensitive part of the face), I kept thinking "Oh… was that it?"!
I was pleasantly surprised at how little pain there was. The only way I can describe it is that it felt like a tiny pin prick or scratch similar to the feeling when you have to get a drop of blood drawn from your finger. Honestly, it isn't even that bad, but that's the closest thing I can compare it to.
Calah did two passes with the Microneedling RF tool around my cheeks, eyes and forehead. She did three passes in the chin and neck area. I expected the neck to hurt the most, but it was actually the easiest and most comfortable!
Then came the LaseMD treatment. I'm going to be frank. This was more painful than the Microneedling RF. Someone told me it feels like pops of hot bacon grease landing on your face. That is a perfect way to describe it. There is a popping noise as the laser connects to the skin and the intensity is like that feeling of hot grease 'popping' out of the pan and on to your skin. The difference is, the pain instantaneous and passes quickly, but when you're doing your whole face and neck it does get uncomfortable at times. The more sensitive areas, for me, were the forehead and under the eyes. But, it went by very quickly and I was again thankful for the Pro-Nox and numbing cream.
Coming off the Pro-Nox was a piece of cake. I felt like I'd had a few glasses of wine while I was using it, but within a minute or two after I stopped, I felt completely fine again. It was like magic!
After the procedure, I was red as a beet and was anxious to go home and relax with a big glass of lemonade. The staff kept me there for a little while to make sure I was feeling better and explained what I needed to do for the rest of the day in terms of my care. I received a lovely goodie bag full of cleanser, moisturizer, sunscreen and detailed post-care instructions, including Dr. Waples phone number.

About an hour after I got home I felt dramatically better. I could still sense that I had what felt like a bad sunburn and my face was swollen.
After six hours I noticed the swelling was going down a bit, but was still pronounced under my eyes and around the chin and neck. The redness was also slightly less intense and the burning sensation was fading.
As I write this at 10:00 pm in my bed, I'm feeling almost no discomfort whatsoever. I've cleansed and moisturized my face and there was a little irritation when I did it even though I was extremely gentle. I didn't wipe my face with a washcloth; instead I used tepid water, prescribed cleanser and moisturizer and took my time gently rubbing in the skin and blotting the cleanser off with the softest washcloth I could find.
Right now, I'm in bed and ready to sleep. I have to sleep in an upright position so the fluids in my face can flow down rather than gather in my face and neck if I lie down horizontally. This should be an interesting night of sleep! 🙂
I'll keep you posted in the next few days about how I'm feeling and I'll keep up with video logs as we document the changes that occur days and weeks after these procedures.
Thanks for following along with the journey!