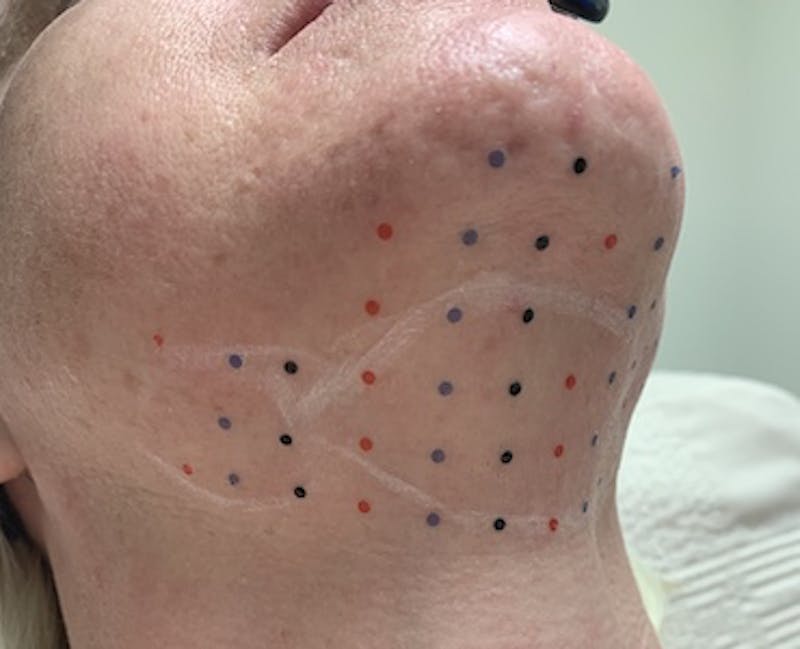 Better With Age: Wrapping Up the Skin Work
by Guest Blogger: Brooke Jones
I went in five days ago for a second round of Kybella (deoxycholic acid) as Dr. Waples felt I would benefit from additional reduction of fullness in my chin and neck area. After the first round of Kybella, I certainly noticed a difference, but I agreed with Dr. Waples that one round was not enough to fully improve the double chin issue that has been a major concern for me.
The second round of Kybella was very similar to the first. I iced my chin and neck for about 15 minutes, then received several injections. My chin and neck were immediately swollen and 'bouncy' (I don't know how else to describe it). I will say that of all the treatments and procedures I've had, this one is my least favorite in terms of the way I look immediately afterwards and for the following week or so. There is just no getting around the swelling and jiggly turkey neck.
So, is Kybella "worth it"? For me, ABSOLUTELY. The swelling is unpleasant, but temporary. The results are permanent. In aesthetics, most treatments have to be maintained over time. With Kybella, once you've completed the treatment, you are done and done forever. So I say 100% yes to Kybella!
I also want to share the best compliment I have received during this process to date… My boss, who is not one to hand out compliments about anyone's physical appearance for any reason, called me on the day of the Kybella procedure and asked how I was feeling. I told him I was sore, but overall I felt good. He said, "I just want to tell you that I can definitely tell a difference with everything you're doing. You look so much healthier and you look younger overall." He then followed it up by saying things like "I don't mean you looked bad before…" or "You didn't look old…" I knew what he was trying to say and told him how much I appreciated his comments.
I have been getting a LOT of those comments in the last couple of months and it has made me feel great about the results. It's hard sometimes to see the difference when you look at yourself every day in the mirror, but so many of my friends and family have mentioned my skin lately or asked if I'm losing weight (I'm not).
I only have one more procedure left – getting my filler and Botox! It is the one I'm looking most forward to in terms of the results.. I'll be getting filler in my cheeks, under my eyes, in my lips chin and around my mouth. I'll also be getting a bit of Botox in between my eyebrows. Stay tuned because I think this is going to be the biggest "instant" transformation that I'll experience.